We offer various tapes.
BG Tape

(UV Curable BG Tape)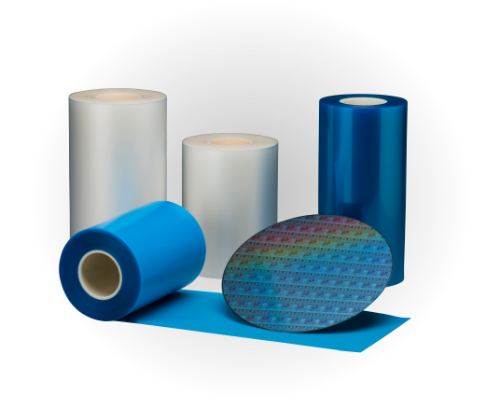 The Adwill E series of UV curable back grinding tape prevents damage on wafer surface during back grinding and contamination caused by grinding fluid and/or debris. Adhesion of the tapes can be substantially decreased with UV irradiation, allowing easy peeling without stress on the wafer. This feature makes the series suitable for the processing of thin wafers.
Product Information
Back Grinding Process
Standard

Ultra Thin Grinding
(thickness: >40µm)
Micro Bump
(including ink dot)

Bump (height: <150µm)

High Bump (height: <250µm)
Standard Type (General-purpose)

1. Since contamination on the wafer surface is extremely minimal, the wafer does not require cleaning after back grinding.

2. The adhesive coating environment exceeds class 100 (US Federal Standard 209b).

Tape Types for Thin, Bump Wafers

1. The inherent stress relaxation capability of this tape, curtails wafer bow that would otherwise arise after back grinding due to residual stress during tape lamination. Moreover, by dispersing stress during back grinding of bump wafers, this tape prevents wafer damage and wafer dimples, while enhancing wafer thickness accuracy.

2. High precision tape thickness accuracy ensures precision wafer thickness after back grinding.