We offer various equipment.
UV Irradiation System

(300mm Semi-Automatic UV Irradiation System)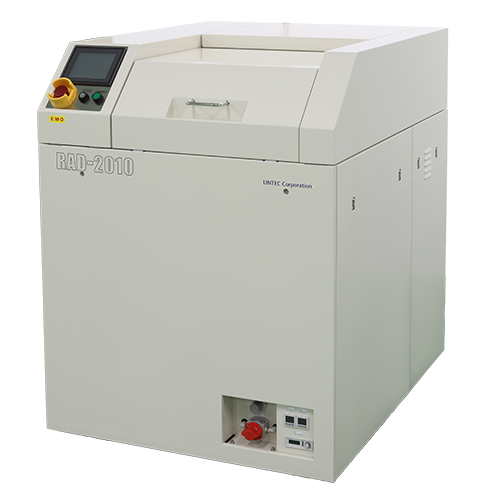 1.Comparison with our conventional 300mm semi-automatic UV irradiation system

 - Footprint reduced by approximately 16.5%

 - Operability improved by concentrating operation interfaces in one place

 - Visibility improved by installing touch screen at an angle of 45 degrees (conforms to SEMI standard)

 - Double irradiation of 150mm wafer ring frames (optional)

2.High precision irradiation with constant illuminance

Square-wave lighting utilizing a high frequency inverter offers high precision, reliable UV irradiation with optimized illuminance and light intensity.

3.Automatic feedback illuminance control

A built-in sensor enables feedback control to keep constant UV lighting output. By maintaining steady lighting throughout the lamp's life, the system contributes to fabrication of a constant quantity of semiconductors.

4.Easy operation with one button

This equipment improves operability and stability with center loading, while significantly stepping up operational efficiency.

5.Quick and uniform irradiation of entire surface

Uniform irradiation of the entire surface is assured through mobilization of a nitrogen-filled chamber. Irradiation speed can be freely adjusted in accordance with conditions including wafer size and type.